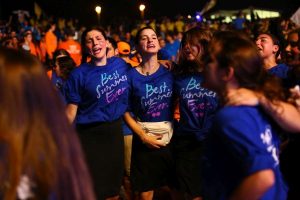 More than 2,000 campers and staff members from 17 different Orthodox Union (OU) summer programs in Israel gathered this week at Park Ra'anana to celebrate Jewish unity, and underline their commitment to strengthen their bonds between Diaspora youth and the Jewish State.
Jewish music superstar Mordechai Shapiro entertained the massive crowd at the event, the largest-ever gathering of "NCSY" participants in a single location in Israel.
NCSY is historically known as one of American Jewry's renowned educational and social programs, uniting both observant and non-observant youth. It has become increasingly involved in promoting programming in Israel and instilling a love for the Jewish State as a part of contemporary Jewish identity.
Read the rest of this article at Jewishpress.com