By: Jeffrey Korbman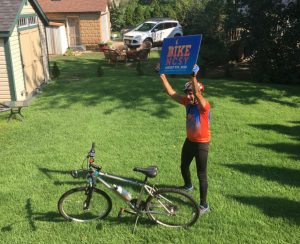 Since the pandemic began, I have biked hundreds of miles in preparation for today: BIKE NCSY, which took place Sunday, August 9th. Beyond the personal desire, a biking event is an incredible way to raise funds during a socially distant period. I was all in.
Along the way, I dislocated my right shoulder landing me in the E.R., joined my mother-in-law on an N.Y. upstate trail, and borrowed my best friend's "better" bike, only to return in with a flat. Please…don't ask which experience was most painful.
Biking is mostly solitary. Even when going on a ride with someone else, over time, you develop a rhythm and cadence that some describe as meditative in nature. You think. You breathe. And you notice things at 12 mph that may not be as apparent on faster vehicles.
For me, I have come to notice flags at half-staff. In fact, I tend to count them. On Bike NCSY, I went 26 miles and counted 9 flags.
Flags flown at half-staffis an American sign of mourning. The custom has early maritime origins, but became much more prominent in the U.S. when President Dwight Eisenhower issued Proclamation 3044 that set up the parameters to fly U.S. flags at half-staff in front of Federal buildings to mourn the dead. It is, in a way, a national gesture of tearing kriyah.
So, I count the flags, as I ride during the pandemic. In a country that can sometimes be materialistic and arrogant, the lowering of a flag creates a bit of space atop a pole that acknowledges the value of life. I appreciate that.
In fact, I am reminded of a beautiful story I heard from a Rabbi David Wolpe, many years ago. Rabbi Wolpe is a Congregational Rabbi, as was his father. When his father died, he said, he had a dilemma. Having led countless others, congregants, over many years in saying the Mourner's Kaddish, how would he now be able to say it for dad with meaning and not by rote?
Rabbi Wolpe went on to explain that all those years, and for all those congregants, when he reached the last line of "Oseh Shalom Bimromav", he would remain still. When he now recited Kaddish for his father, however, he took three steps back when reciting those words. Those three steps back, that small, empty space, he created was to remember his dad, and the void in his life.
Life. The space we sometimes make to acknowledge life.
Beginning my BIKE NCSY ride, I knew some things going in: I was one of 190 riders, spanning 18 cities, 30 routes who collectively raised $150,000. I knew that was a record-breaking event for NCSY, which reflects a genuine interest in safe, outdoor activity. But there was something more important I knew as well.
It was a year ago, when our friend Rabbi Yehoshua Marchuck, Director of NCSY Alumni, was in a hospital bed fighting for his life. He is the Conductor behind BIKE NCSY, and we wondered whether there would be another? We wondered whether there would be more swag, more lawn signs, more sponsors, more riders?
We prayed for "Reb Yehoshua Dovid ben Alta Yenteh". We called, we visited, we wrote, we shed tears and prayed some more.
We are blessed to not only have our Reb Yehoshua BIKE NCSY Marchuck with us, but to have him in good health and spirit. Sure, along with beating cancer, Hashem could have returned his sense of humor too; but let's not be greedy.
So today, I raise my BIKE NCSY flag, full-staff, in recognition of Yehoshua's life, and all the lives he will impact.
I raise my flag and say two words to our friend, colleague and teammate: Ride-on, good Rabbi, ride-on.