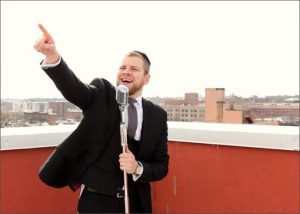 NCSY is excited to announce that Jewish-music superstar Mordechai Shapiro has been confirmed to perform at the first NCSY Annual Gala to be held Sunday, November 12 at the Cradle of Aviation Museum in Garden City, NY.
Shapiro made his musical debut in 1997 as the star soloist of the Miami Boys Choir. His first video, "Rachem" (with Yaakov Shwekey), received over a million hits on YouTube. Renowned for his unique style and energy, Shapiro has become one of the most sought-after performers on the Jewish music scene today. His debut album, Kol HaDerech, features the hit "Schar Mitzvah," while his recently-released second album, Machar, is best known for its title track.
Not only is Shapiro a favorite among NCSYers, NCSY and other divisions of the OU have cultivated a friendly working relationship with the singer. This past summer, more than 2,000 NCSY Summer Program participants and staff gathered for the largest Yom NCSY to date, at which Shapiro performed as headliner. His performance invigorated the crowd, metaphorically bringing the house down. Additionally, the music video for Shapiro's song "B'Yachad" features members of the OU's NJCD-Yachad programs.
The NCSY Gala, a first of its kind that will be held at a uniquely appealing venue, already promised to be an exciting event. The addition of Mordechai Shapiro and his popular, distinctive sound promises to elevate the event to a new tier, as well as providing fans with an opportunity to enjoy the singer up close and personal.
Learn more about Mordechai Shapiro and his music on his website, mordechaishapiro.com, as well as on YouTube, iTunes, and at your favorite Jewish book store. To secure your seats for the Gala or support NCSY, visit ncsy.org/gala.