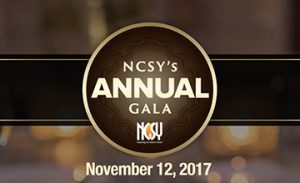 INAUGURAL NCSY GALA WILL RECOGNIZE HONOREES FOR THEIR LEADERSHIP AND DEEP COMMITMENT TO JEWISH YOUTH
Event to Take Place in Garden City, NY on Sunday, November 12
Following the Annual Ben Zakkai Honor Society Scholarship Reception
New York, NY, OCT. 17, 2017– NCSY, the global organization that helps Jewish teens build a strong connection to their Jewish roots through inspiration and leadership skills, will hold its NCSY Gala on Sunday, November 12 at 6:00 p.m. at the Cradle of Aviation Museum, Charles Lindbergh Blvd., Garden City, NY.
The gala event celebrates the tremendous growth of NCSY across the country, which has connected with more than 24,000 Jewish teens. In addition to local, national and regional programs throughout the school year, NCSY offers more than 17 different summer programs in the U.S. and abroad, bringing upwards of 1500 teens on these programs each year.
Honorees include Rabbi Moshe and Serena Benovitz of Ramat Beit Shemesh, Israel; Jeffrey and Sharona Weinberg of Woodmere, NY; and Benyamin and Esti Kaminetzky of Teaneck, NJ.  The program will also feature a special Ben Zakkai Memorial Tribute to the late Joseph and Julia Macy, for their stalwart support of the New England chapter of NCSY.
The efforts and support of this year's honorees have made an impact on Jewish teens across the globe. Rabbi Moshe Benovitz has been the Director of the NCSY Kollel summer program for more than 18 years in Israel.  He has learned with thousands of young men over the years at Yeshivat Reishit where he currently teaches, in addition to his senior role as Managing Director of NCSY.  Both the Kaminetzky and Weinberg families have sent their children to various NCSY summer programs, and are generous supporters of the organization.
"Recently, NCSY was on the ground in Houston on a Chessed Mission. And quite frankly, NCSY is always on the ground making a difference in Jewish communities around the globe," said Moishe Bane, President of the Orthodox Union. "As we continue to reach more and more teens through our innovative programing, we are proud to acknowledge all of our supporters and are especially grateful to our honorees, all of whom help to inspire our Jewish teens to develop a positive Jewish identity and embrace Torah as they journey into adulthood."
The NCSY gala will take place immediately following the 23rd annual Ben Zakkai Scholarship Reception honoring the newest members inducted into the Ben Zakkai Honor Society: Freda Greenbaum of Bal Harbour, FLA, Dr. Allan Jacob of Miami Beach, FLA, and Rabbi Ethan Katz of Bergenfield, NJ. In addition, Dvorah and Ben Gasner, who reside in Israel, will also be recognized at the event prior to the OU Israel Center's Ben Zakkai Honor Society Induction Ceremony.
"For over 63 years, NCSY has been part of the national fabric of American Jewish life," said Avi Katz, Chairman of NCSY. "Our gala on November 12th is an opportunity to ensure that Jewish teens today benefit from this powerful Jewish movement."
To reserve tickets or journal ads for the NCSY Dinner, Amy Mauskopf, amy@ncsy.org, 212-613-8193 or visit ncsy.org/gala
About NCSY
NCSY is the international youth movement of the OU and is dedicated to connecting, inspiring and empowering Jewish teens to embrace Judaism through Torah and Tradition. NCSY connects with Jewish teens through innovative, cutting-edge social and recreational programs throughout the school year to help them develop a positive Jewish identity.  In addition, NCSY inspires Jewish teens to build strong connections to Israel through informal Jewish education, retreats and summer programs. NCSY helps empower teens through its leadership to become committed leaders themselves as well as instruments for positive change and renewal in Jewish communities.
About the Ben Zakkai Honor Society
The Ben Zakkai Honor Society (BZHS) raises scholarship funds for an array of NCSY programming including gap year, National Yarchei Kallah, Camp Sports for Boys, and the Summer Experience for Girls. It was founded in 1965 to provide a means of recognizing the distinguished achievements of NCSY Alumni who have demonstrated personal Torah growth and the promise of future meaningful service to the Jewish people and the Orthodox community.