When You're In Love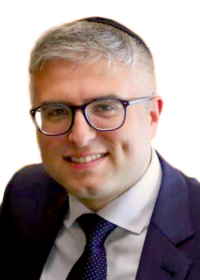 Shavuos doesn't make sense for a lot of people. My brother-in-law works in a corporate law firm and when they have a project that they need an ambiguous deadline for they just say, "I'll have it for you after Shavuos." For many Jews, Shavuos has always gotten the short end of the stick. Some don't know exactly when it is. It certainly doesn't get the attention of the High Holidays or Passover or Chanukah. And for those meat lovers and lactose intolerant within our midst, the emphasis on dairy seems downright personal.
The confusion surrounding Shavuos is amplified by the curious Shavuos night custom to stay up all night. As a kid, I didn't bother asking why we do it. You don't ask questions when your shul is serving you pancakes. I just figured we stayed up all night in order to learn Torah—seemed like a fitting way of celebrating the giving of the Torah. And each year you could find me in shul covered in Danish crumbs blissfully sleeping through most of the evening's scheduled Torah learning. Because here's the thing—staying up all night to study Torah rarely amounts to much Torah learning. It's nearly midnight by the time you finish your meal and get ready to learn. All the plans you had about all night learning quickly evaporate by the time you take your first coffee break. The caffeine, cake, and sleep deprivation form a potent cocktail to ensure your brain and focus slowly deteriorate. And after a night of muddled concentration transitioning into micro-naps, you can rest assured that the next day you won't fare much better. Staying up all night usually results in sleeping all day. So, if you do the math, staying up all night on Shavuos rarely results in extra learning. So, why do we do it?
While I was in Yeshiva, my rebbe, Rav Tzvi Berkowtz gave a simple yet powerful explanation for why we stay up all night on Shavuos. If the goal was Talmud Torah, it would make more sense to learn for a bit, get a full night's sleep, and then learn the following afternoon. His answer was short and powerful.  We stay up all night, he explained, because when you're in love you do crazy things. Shavuos is about reenacting the fervor and excitement of beginning a new relationship. When you first fall in love, excitement trumps routine, exhilaration replaces schedules.  Ahava mikalkeles es ha-shura, the Midrash writes, loves breaks down the sequential. When you're in love you do crazy things.
Nothing is quite as crazy as preparing for Shavuos still under much of the regulations and guidelines of quarantine. Usually, we can at least show up to our shuls and schools for all night learning programs—even if we doze off halfway through. Not this year. Instead, we will be transforming our living rooms, dining room tables, and kitchens, into a Shavuos experience. And, honestly, as crazy as that may seem, there may be no better way to connect to Shavuos. Inside of our homes, Shavuos may not have the wow of an exciting scholar in residence or the choices of a shul buffet—but in the intimacy of our homes we can reexperience the love of Shavuos in new ways. Without a formal program, Shavuos night can become a night to express our innermost affection for Torah and our commitment to God and the Jewish people.
Normally, before Shavuos, NCSY would be busy finalizing our teen programs throughout shuls and finalizing our Spring Regional Shabbatons. Instead, this year, we have played matchmaker. Whether it is our "Shavuos in a Box" or our "Bright Lights on Shavuos Night" program, NCSY has focused on providing teens and families the resources so they can fall in love—on their own—with Torah. We provided the materials, the guidance, the coffee even, and then we stepped aside. Shavuos night is not about listening to inspirational speakers—it's about developing your own personal relationship with Torah. This year, everyone is their own scholar-in-residence of their living room.  So in the comfort of your home, it may seem crazy to even attempt to open up a sefer or a source book—but that's the point. When we're in love we do crazy things. And we hope this Shavuos is as crazy, loving, endearing, and memorable as ever.
Warmest wishes,
Dovid Bashevkin